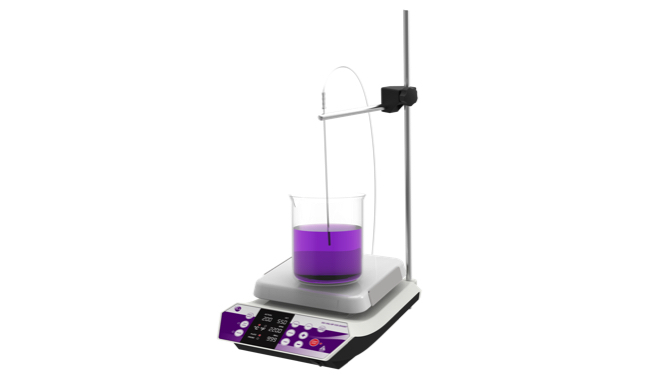 Products • Shakers & Stirrers
Stir Mix HP 550 Smart Magnetic Hotplate Stirrer
Model Ref:
MSHP-550-S
Overview:
Stir Mix HP 550 SMART Magnetic Hotplate Stirrer is specially
designed for precise control of stirring speed and temperature. It
allows gentle to vigorous mixing with speed ranging from 200 to
2200 RPM and a maximum capacity of 20 liter beaker. The multipurpose
digital display assists users by displaying various parameters
like actual & set temperature, speed, mode of operation, etc. It also comes with a programmable pulse mode for better mixing. The stirrer has a space saving design and meets IP21 protection.
Features
Variable speed setting from 200 to 2200 RPM in step of 10 RPM.
Unique slip detection mode to avoid stalling the stir operation.
Easy access to heater by simply removing top plate.
Thermal shock resistant chemical/splash proof ceramic plate.
Maximum temperature up to 550˚C.
Long timer range from 1-999 minutes & infinite mode.
Platform made with nano crystalline glass ceramic.
Electronic circuit is uniquely positioned to ensure there is no damage to electrical circuit in case of liquid spillage.
Hot Plate Stirrer automatically resumes operation after power failure or error condition.
Critical parameters are displayed without any toggle to ease the monitoring of operation.
Powerful BLDC motor delivers constant speed under varying load conditions.
Specification
Speed Range: 200-2200 RPM in steps of 
10 RPM
Motor type: Brushless DC Motor
Capacity: 20 liters
Set up plate material: Nano crystalline glass ceramic
Set up plate dimensions: 180 x 180mm
Heater Temperature: Ambient to 550˚C
Programmable Mode: Save up to 99 user defined programs
Weight: 5.4kg
Protection Class: IP21
Dimensions (WxDxH) in mm: 220 x 330 x 115mm
Ordering Information
MSHP-550-S: Stir Mix HP-550 SMART Hotplate Magnetic Stirrer Nano crystalline glass ceramic top and Programmable Mode. Included Accessories MSHP-550-S-1 & MSHP-550-S-2 , UK Plug, 230V
MSHP-550-S-1: Stand with boss head for Temperature sensor for MSHP-550-S
MSHP-550-S-2: Temperature Sensor for MSHP-550-S
You Might Also Like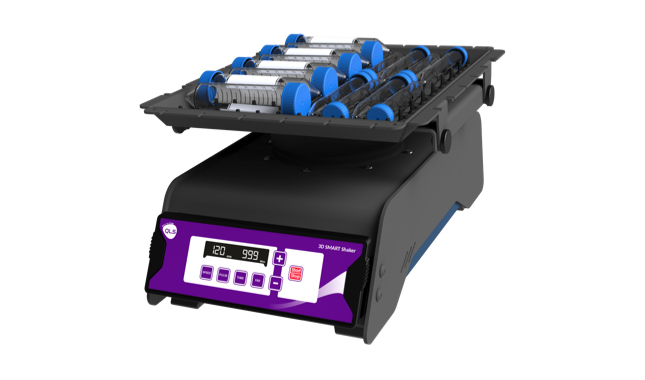 Products • Shakers & Stirrers
3D SMART Shaker
The 3D motion of the 3D SMART Shaker gent...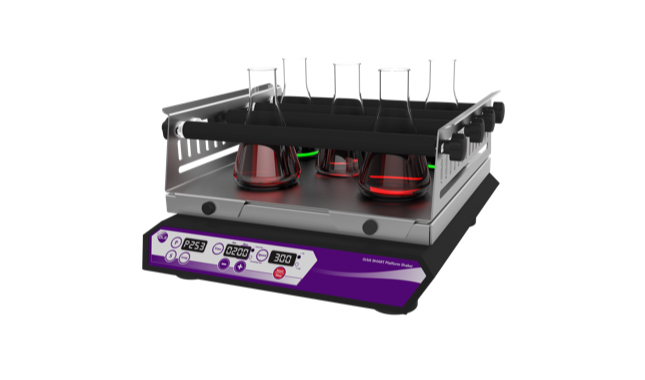 Products • Shakers & Stirrers
ORBIT SMART Platform Shaker
Orbit Smart Platform Shaker provides smoo...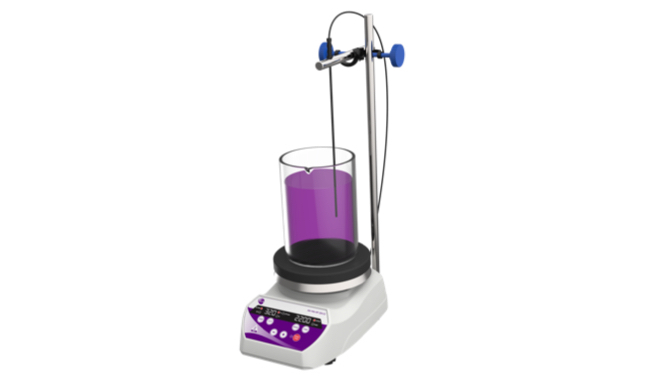 Products • Shakers & Stirrers
Stir Mix HP 320-CC Magnetic Hotplate Stirrer
Stir Mix HP 320-CC is a high performance ...